We're not going to pretend that we aren't just as enthusiastic about spending our summers lounging on a Greek island as you are. However, there is so much more this lovely country has to offer on top of endless, gorgeous beaches and charming towns. Plus, Greece has a pleasant climate all year round, so summer is not the only time you can enjoy spending your time there. Therefore, if you're an outdoor enthusiast, you'll have difficulty choosing where to start with all available options. To help you plan the itinerary for your upcoming adventure, as your Greece travel experts, we present you the top four active Greece holiday ideas.
Ideas for the best active Greece holiday ever
If an active vacation in Greece is something you're after, you can get psyched now. You may do rock climbing and canyoning, hiking, mountain biking, windsurfing, kitesurfing, scuba diving, kayaking, and just about everything else, even skiing.
However, don't let the enthusiasm and excitement carry you away too much. Make sure to plan everything and ensure everything's in order before you head to the airport. Don't forget to leave your valuable belongings safe while you're away. The team from vanexpressnj.com suggests temporarily renting a storage unit. That way, you'll have peace of mind while exploring Greece. Now let's see what active Greece holiday ideas we've prepared for you.
#1 Hiking in Greece is amazing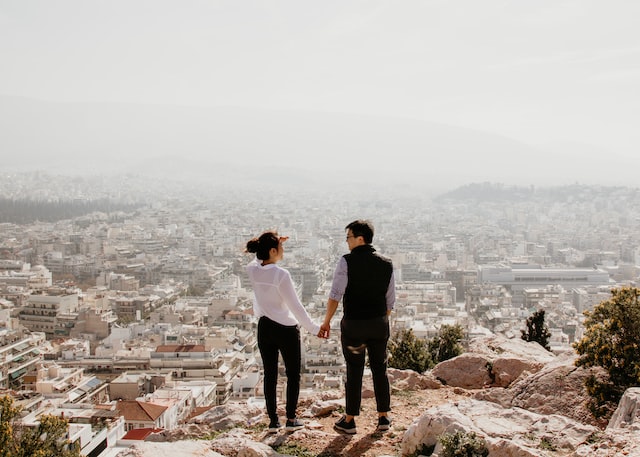 Most people aren't aware, but the majority of Greece consists of rugged mountains. Over 40 mountain ranges boast elevations of 2,000 meters or more elevations, making for some truly breathtaking views. There are a variety of trails for hikers to choose from, both along the shore and inland. Your only challenge will be narrowing down your choices and deciding what to visit.
Thanks to the country's Mediterranean climate and year-round sunshine, visitors to Greece can relish in the great outdoors no matter the season. That is just one of the reasons to visit Greece in October. The distances between the regions are manageable, and many paths weave together centuries of history and culture.
Here are just some of the ideas for your hiking expedition in Greece:
Mount Olympus, the legendary abode of the Greek pantheon, features easygoing pathways suitable for families and more strenuous paths to the mountain's highest summits.
Hikers may explore a terrain unlike any other as they navigate centuries-old monasteries in Meteora, a site often regarded as a natural and human-made miracle.
The Cyclades are the most famous Greek islands because of their encircling location around the uninhabited island of Delos. Every one of the Cyclades islands, from Santorini and Tinos to Folegandros, is home to hikes worth remembering.
#2 Enjoy sailing the clear blue waters
Greece is one of the best places to go sailing because of its 16,000 kilometres of coastline, including the mainland, and over 6,000 islands (of which only 227 are inhabited). Due to the favourable climate, four distinct archipelagos, and seven distinct island chains, sailing vacations here are relaxed and enjoyable.
Your sailing vacation will consist of island hopping with plenty of swimming in between, whether you're visiting the lush Ionian islands (rich in colourful Venetian landmarks) or the more well-known Sporades (home to Mama Mia). The possibilities are endless, and the sights in any given island harbour or seaport will always differ.
Here are, in our opinion, the top sailing experiences in Greece:
The Ionian archipelago is excellent because of the closeness of islands like Zakynthos, Kefalonia, Ithaca, Corfu, Lefkada, and Paxi/Antipaxi in the north.
Sporades has always been popular with sailors. Alonissos, the first island in Greece to get rid of plastic, is quite close. It's known for its beautiful marine park with rare animals like the Mediterranean Monk Seal.
The Dodecanese islands have been significant to the history of the country. There are 15 big islands and 150 smaller ones, including Rhodes, Kos, and the undisputed hidden gems of the area.
#3 Try river trekking
Another one of our active Greece holiday ideas is river trekking. The country has more than 2,500 km of rivers, and many run through gorges with waterfalls and freshwater pools where you can swim.
At an altitude of 2,400 m, you could be in the foothills of Mount Olympus or drinking fresh water from springs in the tall Astraka Mountains. With so many beautiful mountains, deep gorges, and winding rivers, it's no surprise that mountain activities are so popular in Greece.
Here are the top river trekking experiences in Greece:
Once you've seen how beautiful and full of life the Voidomatis river is, you may have found your new favourite place in Greece.
The Panta Vrehei Waterfalls, whose name means "Always Raining Waterfalls," is one of the many natural treasures of Central Greece.
The Neda River in the Peloponnese is named after a nymph who was a goddess of water in Greek mythology. The place lives up to its name, with a beautiful waterfall at the end of a hike up the river path.
#4 Rock climbing in Greece is so much fun
When it comes to rock climbing, there is probably no better place in Europe than Greece because of its amazing climate. Climbing enthusiasts will appreciate the diversity of crags, caves, and overhangs made possible by the area's volcanic origins and high-quality limestone. The iconic Meteora monoliths are only one example of incredible climbing destinations you can't see anywhere else.
In addition, several climbing areas are close to bodies of water, making it possible to unwind with a refreshing dip after a long day on the rock. Afterwards, you'll be even more eager to try delicious traditional Greek food.
Here are just some of the places for the best rock climbing experiences in Greece:
Kalymnos has become a mecca for climbers of all skill levels because of its breathtaking surroundings and tens of thousands of well-kept sites (such as the jaw-dropping Grande Grotto).
In Meteora, skilled mountaineers will find a once-in-a-lifetime climbing destination.
Leonidio is a premier climbing destination in the eastern Peloponnese, thanks to its high-quality limestone crags, which offer climbers a wide variety of single and multi-pitch routes.
Have fun on your active holiday in Greece!
We hope our active Greece holiday ideas inspired you to plan a vacation you'll remember fondly for years to come. Or better yet, you can always really on experienced travel experts when booking your exciting holiday in Greece. We will help you best plan your holiday so you can make the most of your time in one of the most beautiful countries in the world.
Photos used:
https://unsplash.com/photos/Q3NEoed1dzs
https://unsplash.com/photos/oZSDI44GwKU