Greek cuisine takes a back seat to the country's more well-known tourist draws, such as its ancient sites and picturesque islands. However, traditional Greek food alone is something worth taking the trip! The food is a fusion of Eastern and Western influences, with an emphasis on locally sourced, in-season fruits and vegetables, grilled meats, and aged cheeses. Therefore, stopping by as many authentic Greek "tavernas" as you can during your trip is a must, whether you're in Athens, Corfu, or anyplace else in the country. But with so many delicacies, it can be challenging to decide where to start. That's why we've consulted Greece travel experts, and here are six traditional foods you must try in Greece.
Which delicious traditional foods you must try in Greece?
We know you're limited in the number of Greek eateries you can visit and don't want to spend your time or money on subpar fare. Perhaps you're even lucky enough to be hiring movers for an international move from the US to Greece. But after you settle down here stress-free, you'll want to know what mouthwatering classic Greek foods to treat yourself with. Well, brace yourself because here are six Greek delicacies you simply shouldn't miss.
#1 Gyros
Let's start our list with the most obvious (and probably everyone's favorite) traditional Greek food – Gyros. You may get them anywhere, but here (the birthplace of the tasty street dish), they do things a little differently.
In Greece, roasted meat is sliced thinly and placed between two pieces of warm, soft pita bread. Add some crisp vegetables for a burst of flavor and texture, then top with a handful of fries. It's an odd combination, yet it works perfectly in taste! The dish is finished off with a generous coating of a white sauce that has just the right amount of garlic flavor.
Gyros can be made from any number of meats, including lamb, beef, pork, and even chicken. Chickpea-based options for vegetarians and vegans are now widely available. Gyros are not only a terrific option when you're short on time but also a very cost-effective one.
#2 Moussaka
You've tried moussaka before, but it's never quite the same as the moussaka in an average Greek family restaurant, where they use a recipe that's been passed down for generations. Layers of eggplant and ground beef are baked in a simple dish topped with a rich béchamel sauce.
Moussaka should be your first stop when looking for authentic Greek cuisine. While eggplant is traditionally used in this recipe, potato or zucchini ribbons are a common substitute. Adding tomato gives ground meat at some restaurants an extra depth of flavor. In whatever form it takes, moussaka is always a rich comfort dish best enjoyed in hearty portions.
#3 Baklava
While baklava's roots are probably in Turkey, its popularity in Greece is undeniable. There are innumerable thin layers of filo dough in this dish, which is filled with a mixture of chewy almonds, fatty butter, and sugar.
After baking until the top is golden and crisp, a sweet syrup is drizzled on top to complete the dish. Baklava is a must-try in Greece if you're looking for something delicious to eat. If you're on your ultimate honeymoon in Greece, surprise your loving spouse with this delicious desert, and will fall in love with you all over again.
Although the original recipe called for only nuts and honey syrup, modern bakeries in Greece have come up with a wide variety of delicious and inventive baklava fillings. The great displays of baklava in a wide variety of sizes, colors, and designs may be seen in the storefronts of any bakery or dessert shop. They're almost too pretty to eat sometimes!
#4 Saganaki
If you want to taste as many authentic Greek dishes as possible on your trip, you should have saganaki, even if you're not usually one to order appetizers. A massive block of local cheese is the star of this meal, which is pan-fried until the exterior is golden and the interior is mushy.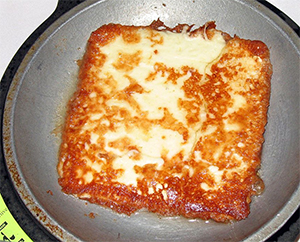 It would be best if you ate it as soon as possible to appreciate the harmonious blend of flavors and textures fully. Don't wait for the cheese because it will harden as it cools.
Despite its apparent lack of complexity, saganaki is a delicious and addicting dish. You may make it a meal by adding some crusty bread to your order. They might serve you saganaki made with halloumi, feta, graviera, or kasseri, but any cheese that holds up well over high heat will do.
#5 Greek salad
We probably don't have to tell you that you can't go to Greece and not try the Greek salad. It's a perfect way to refresh and regenerate after a full-day Ancient Delphi tour. Trust us; you'll want to order this dish again and again since it's so delicious.
Tomatoes, cucumbers, green peppers, red onion, and kalamata olives are the classic ingredients of a Greek salad. The highlight is the huge slab of feta cheese that sits atop the dish, which is also liberally doused in olive oil. Capers, a salty, briny condiment, is sometimes sprinkled on top.
#6 Tomatokeftedes
Although you can find it anywhere in Greece, tomatokeftedes is one of the most famous dishes from Santorini. It's a staple of the island's appetizer offerings and a common component of mezze plates. You can win over even the pickiest eater with the incredible texture and depth of flavor of these tomato fritters.
The use of premium tomatoes in tomatokeftedes elevates the dish to a new level of deliciousness. When in season, the Santorinian tomatoes used in this dish have an exceptional flavour. A different variety of tomatoes would completely change the flavour.
Although there aren't many components to tomatokeftedes, when they're all of the highest quality, you're guaranteed a dish you'll want to have again and again. Tomatokeftedes is a dish that won't let you down if you're in Greece in search of farm-fresh fare.
Which traditional foods will you try first in Greece?
Keep in mind that these are just some traditional foods you must try in Greece. There are plenty more to choose from that are equally delicious. Let us know which ones you like the most by leaving us a comment below. We'd love to hear all about your Greek food experience!
Photos used: